OverBlog iPhone App even better than before
Hi, I'm Mallox, and I work on mobile apps at OverBlog.

The OverBlog iPhone app (free) has been available on the App Store for 3 months, and every day more and more of you are using it to manage your blogs.
We're releasing a new version every month on average. This way we can continuously improve the app, little by little, and better respond to your feedback.
In the latest version 1.4, there are some bug fixes, of course, but we focused on two things:
Streamlining the navigation experience
Revisiting the way your posts are shared on social networks
Streamlined experience: automatically saving content you enter
Now, when you draft or publish a post, you no longer have to validate what you enter. The orange button at the top right is gone. The "Enter" button saves your changes.
We also removed some messages that interfered with navigation, and we made others easier to understand.
Social Media accounts are synced between mobile and web
The Twitter and Facebook accounts you configured in your Admin area on the web are now used to share the content you publish from your iPhone.
When you're publishing a post, these two buttons now appear (bottom of the screen):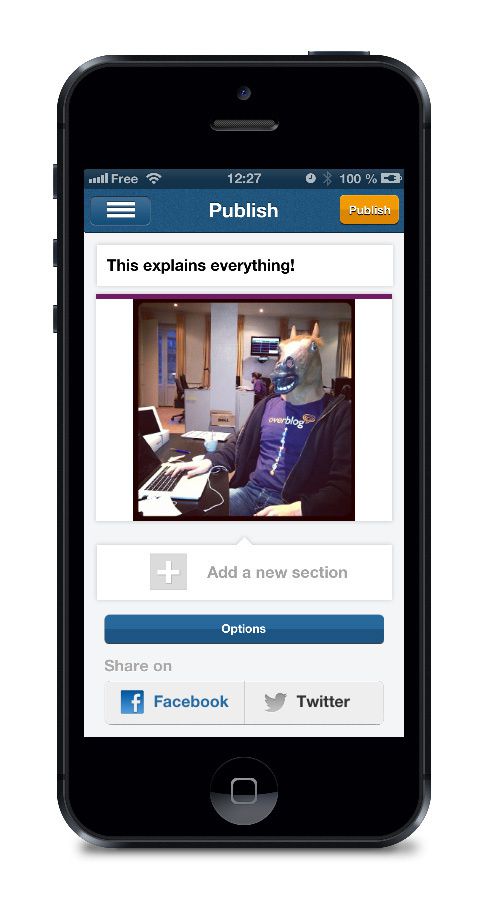 These buttons (which were hidden in the "Options & Sharing" menu before this version) now let you activate/deactivate sharing on Twitter and Facebook for the post you're about to publish. It will be shared when you publish.
Note that the choice you make will be saved for the next post you publish from the app.
On the other hand, when you share or reshare posts that are already published, whether it's one of your own posts or a "repost," it will be the social media accounts you already have configured in iOS that will be used (see image below).

PS: A word about the OverBlog Android app, which we're in the process of developing. We'll let you know as soon as it's available on Google Play. Unfortunately, we can't say exactly when that will be!

Mallox
Product Manager Mobile