OverBlog update: Flashpost and subscriptions
As you may have noticed, you're seeing more and more posts on the Staff blog. The members of the OverBlog tech team have joined the community managers to keep you up to date on the platform's latest news. Soon you'll know all there is to know about the themes, admin features, and mobile apps.
What's new on OverBlog?
Over the last two weeks, we're pretty sure you noticed a couple of new things: the new and improved Flashpost and the addition of subscriptions.
An update to the text editor also just came out.
Flashpost enhanced
If you're on the new version of OverBlog, you've become familiar with Flashpost, which came out with the new version. Flashpost enables one-click publishing of short articles with only one section (a brief text update, an image, a video, etc.).
We listened to our users' feedback and made it even better by adding link detection.
Now Flashpost detects the kind of link you enter and automatically chooses the right section: image, video and link.
Below are the three examples of link detection in action.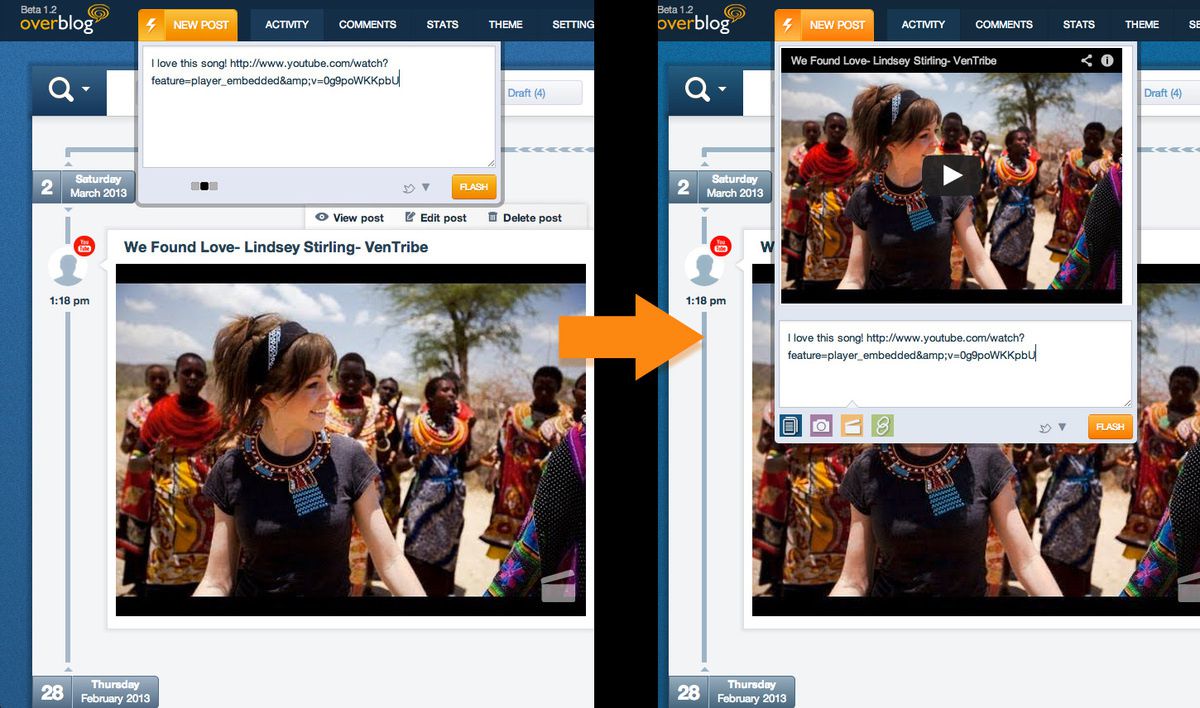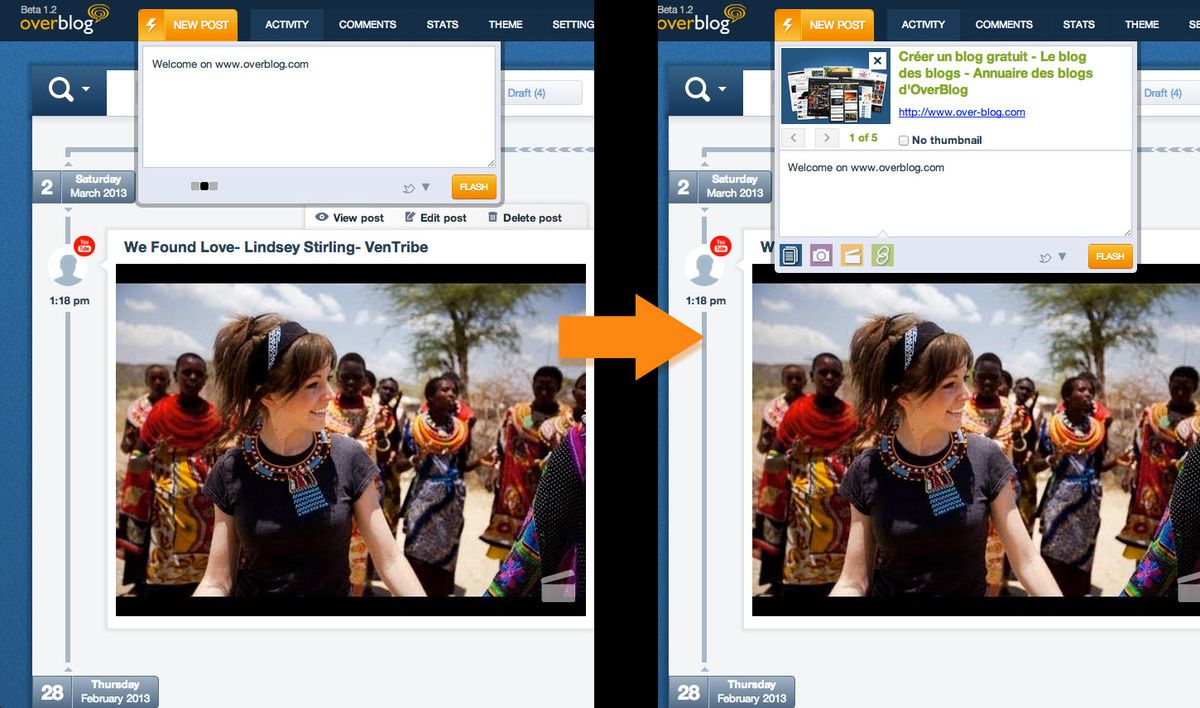 In order, they are: detection of a link for an image, for a video, and detection of a link to a web page.
Subscriptions
One thing that's new is the renovated version of one of the main features of the previous version of OverBlog: subscriptions to publications (called "Newsletter" in the old version).
Now, with a single click, you can tell your subscribers about your new posts and flashposts.
Just like when you share on Facebook or Twitter, your subscribers are notified as soon as you publish your post (and you can choose that date when you're writing it).
If the Subscription widget is activated on your blog, your visitors can subscribe to your publications for free.
If you customized the HTML of your blog theme, you can always add the form to your blog (see the documentation for themes), or you can add a link to the page "/mail/form". Like this: http://staff-fr.over-blog.com/mail/form
Through the different elements of the interface, framed in red, you can manage subscriptions.
New editor
This week, we replaced the text editor you've been using for over a year with a new one.
We decided to change the editor for the Text section to correct a number of bugs in the previous version, but also to standardize the text and HTML sections.
Changes include:
lighter and faster editor
corrected bugs with special characters
improved iPad compatibility
formatting preserved with copy/paste
inclusion of bulleted and numbered lists
uses browser spellchecker
opens links in a new window if possible
Below you can get an idea of how the new editor works, in pictures, which always say so much more ;-)
I hope you'll have as much fun using these new features as we did developing them.
Be sure to follow the blog "OverBlog" to stay on top of all the news.