The lastest new features for your blogs!
We'll be rolling out tons of features in the coming weeks, some great surprises and tools to help you publish your ideas quickly and easily -- and to have fun doing it! We hope you'll like the latest three, shown below. There are more where those came from, of course ;-)
Stats
You've probably noticed that you can finally see stats for your blog!
They're under the STATS tab in the menu bar of your OverBlog Admin area.
They're detailed, yet easy to read, providing a dashboard for tracking visits to your blog and your blog's progress.
You can also see where most of your visitors come from, and use this info to improve search engine ranking and increase your traffic.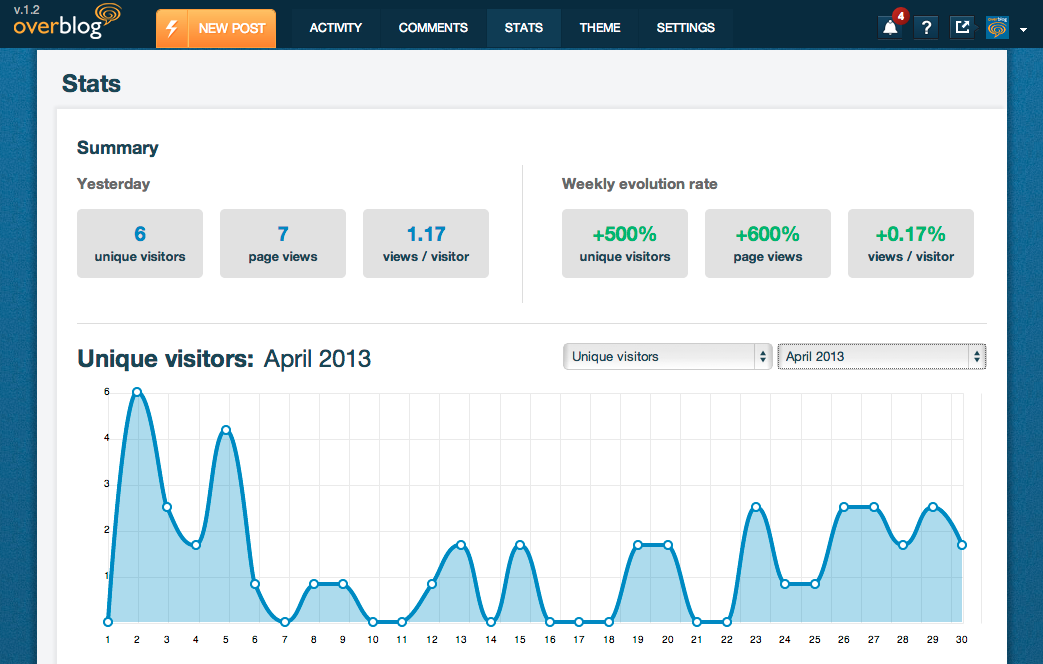 Facebook Page
Many of you have your own Facebook page, as talented chefs, professionals, nonprofit organizations, etc. OverBlog now lets you link your Facebook page to your Social Hub, which means what you publish there can be published on your blog!
The option to connect your Facebook page is now available in the Social Hub (for pulling social media content into your blog). In the near future, you'll be able to publish your OverBlog posts on your Facebook page too ("Share" feature in your Admin area).
Filter your content!
Social Hub already lets you sync your Facebook, Twitter, Instagram, Foursquare, YouTube, and Flickr accounts. Now you can choose the specific content from these services that you want to appear on your blog: with or without images, your Facebook Likes, with or without video, etc.
Customize the "fetch" hashtag. A hashtag is a tag you add to your tweets, Facebook updates, Instagram photos, and so on. For example, you'd add the hashtag #movies to the settings for your social networks if you wanted to "fetch" only social media content tagged #movies for publication on your movie blog.
You have complete control over your content and your blog, so take advantage of it! :)